The Hysucraft Marketplace is a unique platform for Hysucraft owners to list/sell their vessels online. By sourcing vessels from this platform a prospective owner is ensured the legitimacy and high quality of the product, especially the hydrofoil-assist system that was designed by FASTcc. If you are a current Hysucraft owner and want to list your vessel, please email
marketplace@hysucraft.com
.
Hysucraft For Sale
MV/EXPRESS (Originally Nordblitz)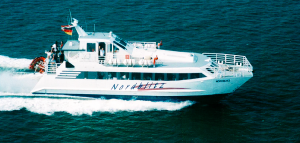 Listing Price: US$500,000 (
PRICE DRASTICALLY REDUCED
)
Valid till end of November 2017
The MV/EXPRESS is a 22,67 meter long fast ferry for 114 passengers that has been built in Germany in 1994. The vessel has Servogear adjustable-pitch propellers driven by twin 734 kW diesel engines and has a service speed of 22-25 knots in full load conditions. With a serious buyer and some work on the engines by the current owners experienced engineers the top speed can be increased. In the event that the buyer requires 35 knots top speed, the former engines could be replaced by new engines of the same type which have considerably higher power and which could be used as the vessel was originally designed for larger engines with the existing servo gear propeller systems. The vessel has a full displacement load of 52 tons and is operating as a ferry catamaran for 114 passengers between Jordan and Egypt.
Several key characteristics that the vessel has includes low fuel consumption and carbon emmissions, low wake-wash, favourable sea-keeping with smooth performance in rough waters and waves. These benefits are a direct result of the hydrofoil-assist system that was designed and developed by Dr. K-G. W. Hoppe.
Originally MV/XPRESS was built according to Germanischer Lloyd (DNV) Standards & regulations and obtained their certificates accordingly ,Recently MV/Xpress accomplished a special survey by RINA(IACS) on dry dock ,the special survey took place on December 2016 and included the following:
New light weight and stability booklet approved by Rina.
Full hull and machinery survey.
Hull thickness measurements.
A whole list of other compulsory tests and inspections according to IACS rules
After the special survey completion a full term Rina class certificates were issued as attached
Key Data
Length
22,67m
Beam
7.42m
Displacement
52 tons
Power
1468 kW, 734 kW x 2
Propulsion
Servogear adjustable-pitch propellers
Passengers
114
The vessel is very well maintained and the documentation of certificate of class, repair and maintenance work are readily available.